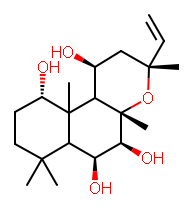 [
See update (28/10/08).
]
One of the aims of the
previous toolkit face-off
was to get some feedback on the best options for drawing images with different toolkits. I also hoped that a comparison of the images would allow bugs to be easily identified. And finally, I thought that a bit of competition might help improve depiction and structure diagram generators across the board.
Since the last post:
Now the images themselves (
same dataset
as before): [
depiction
] and [
structure diagram generation
].
Notes:
The face-off involves the open source toolkits the CDK, OASA and the RDKit, and the proprietary toolkits Cactvs and molinspiration.

If you want to help improve these depictions or coordinate generators, why not leave a comment below suggesting specific ways to improve them, or highlighting specific things they could do better.
Double bond stereochemistry doesn't seem to be preserved by the CDK, but this is possibly my fault (I'm awaiting a reply to an email to the cdk-users mailing list)
Several people complained to me last time that I didn't give OASA a fair chance. In order to make it up, this time round I've made OASA the star attraction. The coordinates generated by the three open source toolkits are all depicted by OASA